Dr Juan LUBROTH
Dr Juan LUBROTH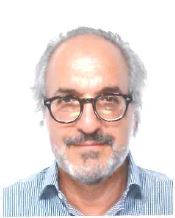 Chief Veterinary Officer, Food and Agriculture Organization

Dr. Juan Lubroth is the Chief Veterinary Officer, and Antimicrobial Resistance Coordinator of the Food and Agriculture Organization of the United Nations. Dr Lubroth received his bachelor's degree (biology) from Whitman College, USA and worked as a wildlife biologist before continuing studies at the University of Georgia, USA where he earned both a master's degree in medical microbiology in 1982 and Doctor of Veterinary Medicine in 1985. In 1992 he received an MPhil degree (arbovirology and epidemiology of infectious diseases) and in 1995 his PhD, both from the School of Epidemiology and Public Health, Yale University, USA.

Dr Lubroth has worked extensively throughout Latin America, North Africa and the Middle East. He initiated several major initiatives for the control of transboundary animal diseases in Central Asia, South Asia, and southern Africa. He was the driving force behind several key cooperative initiatives of FAO with the World Health Organization (WHO) and World Organisation for Animal Health (OIE), including the Global Framework for the Progressive Control of Transboundary Animal Diseases, the Global Early Warning System (GLEWS), the establishment of the Emergency Management Centre for Animal Health, and the One Health concept at FAO. He is the FAO focal point on addressing the threat of antimicrobial resistance (AMR) that comprises staff work from food safety, animal production and health (terrestrial and aquatic), plant protection, land and water, legal, communications services. Dr Lubroth is often called to assist in bringing animal production and health perspectives to the work of the WHO on issues related to zoonoses, AMR, biological safety of laboratories, and matters regarding bioterrorism and agroterrorism, and leads FAO's animal health activities against high impact and zoonotic diseases as well as strengthening veterinary links to the public health systems around the world and continuing professional education.



Session 1: AMR – the next victim could be you

[1.1] Effect on food production, nutrition and economic growth
Antimicrobial use and resistance and its effect on food production and growth

Antimicrobial (AM) resistance in the food and agriculture sectors is a growing concern as it is for human health as AMs play a critical role in treatment of terrestrial and aquatic food producing animals and plants, assuring food safety and quality, animal health and welfare, and farmer livelihoods. In food animal production, AMs are used to treat sick animals, to prevent diseases from spreading or to promote faster growth by applying low concentrations of AMs to feed/water. This third use is increasingly discouraged but still practiced in many countries. While the majority of AM use in agriculture tends to be for food animal production, AMs such as antibiotics and fungicides are also applied to agricultural crops and are used in the agro-industries. The growing demand for food of animal origin as well as food volume to feed a growing population is putting pressure on the food supply systems. AM use in the agriculture sector is difficult to assess due to lack of regulations and poor data collection in many countries, but is estimated to be over 60,000 tons annually. Up to 90 percent of AMs may be excreted un-metabolized in water and animal waste with subsequent spread into the environment. This in turn, may increase the development of AM resistant microorganisms through exposure to AM residues and further spread of resistance through transfer of resistance genes. Various practices can be implemented to reduce use of AMs in agriculture - adequate vaccination coverages, good hygiene and husbandry practices, higher animal welfare, which would lead to healthier animals or crops and a decreased need for AMs. A legal framework should be in place in each country to ensure the quality and efficacy of AMs being used, and to ensure their prudent use.